Jewellery is usually only worn because it means something to you and it is always given because it is meant to mean something but the main reason to wear jewellery is because it looks good.  The great thing about charm bracelets is that they combine a beautiful accessory with a whole range of meanings and memory which can be taken off and changed for different ones as the mood takes you.
The charm bracelet options are almost limitless.  And every year more charms are brought out so if, by some miracle, there isn't a single charm that relates to your life already available, there probably will be next year.  The other great thing about a new range of charms every season is that the old ones get reduced because they are now considered old stock even though they are still just as beautiful and just as high quality as the last lot.
For the standard personalisation, you can't really go wrong with a letter.  Whether it is the first letter of your name or the first letter of your family name or even just a letter that means a lot to you it's a great way to make your bracelet your own.
These two styles of letter, in block capitals and in 3D cursive are examples of stark simplicity and slightly more character, or a bit of feminine style.  Having them completely in silver make them classier and sleeker in design.  It also means that they would match the silver bracelet perfectly and look like part of the design.
On the other hand, a charm with a bit of tasteful colour could really make the charm pop in the context of the bracelet and all the other charms.  You can go out with your extra colours with a charm like this one: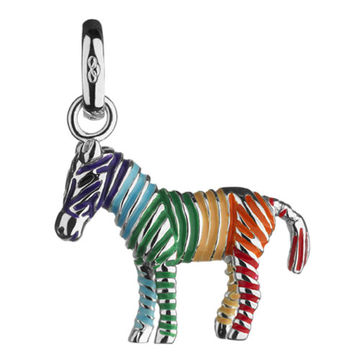 With a whole rainbow of colours, this zebra really stands out.  By separating each band of colour with a band of silver it still fits in with the theme of the bracelet and the theme of the other charms but it definitely brings that something special.  It's a really fun charm and a rainbow can stand for a whole multitude of personal meanings that a zebra alone might not.
If you don't want this many colours then perhaps a dash of gold would give the charm the pop that you're looking for.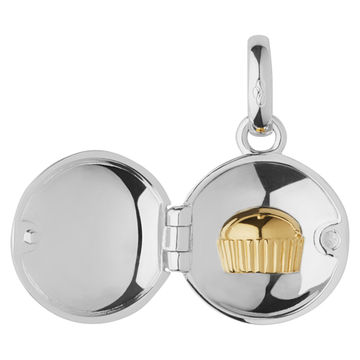 This charm, marking a pregnancy, is a great example of this.  And there a lot more dash of gold charms in the collection too.  The bun, highlighted in gold, highlights the point of this charm while the rest of it just matches the bracelet.  It stands out but it doesn't draw attention and it isn't ostentatious – though neither of these are necessarily bad things.
For a whole collection of beautiful charms to suit every mood, memory, occasion or whim then head over to the Links of London website.  They currently have a fantastic sale on too where you can get around 50% off a whole range of their jewellery – including their charms.