It is probably not completely historically inaccurate to venture that sheep wool was amongst the first material sold for clothing and from sheep wool to sheep skin we have continued to be thoroughly impressed by what these fine animals can offer us.
Sheepskin boots are definitely not new to the market and they have managed to stay in fashion for a  number of seasons now.  Their breathability means that technically they can be considered for every season but realistically they are a winter boot.  One of those facts that has stayed with me from school science classes is that trapped air is the best insulator and sheep wool, which so often lines the interior of these boots, is absolutely full of trapped air.
This cosy ankle boot is a simple design which can be worn with a whole range of leg wear including jeans or tights for a casual day out.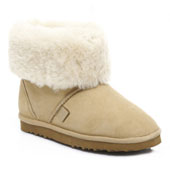 They aren't quite long enough to be considered a more sophisticated boot but for comfort and ease of use they are pretty perfect.  They come in a range of colours too so you can get the pair that match the majority of your wardrobe and never be without them.
These Brompton style boots offer a little more class, not that it's always necessary but sometimes it is nice to have it.  Standing at an impressive 32cm there is over a foot of boot to play with.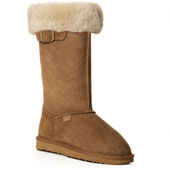 The buckle near the top is a little ornament that makes these boots look a lot more interesting than the average sheepskin boots and fundamentally lifts them out of the slipper category, which a number of sheepskin boots are in danger of falling into.  They come in only two colours which means that you have to suit your outfit to the boots rather than a range of colours which allow you to pick boots to suit your outfit.  These boots show that sheepskin boots aren't just for slouching.
These Sheldon boots have a quirky edge to them which makes them a lot less main stream than the popular sheepskins you will see walking up and down every high street.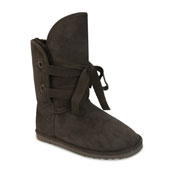 These boots have a versatility to them as they can be worn with the tops folded down over the straps or at their full height showing off the straps.  The large eyelets give the impression that the straps are laces while their size and style give the impression that they are decorative ribbons.  It's this kind of confusion that makes these shoes interesting.  In just one colour, they either work for you or they don't.
Finally, you could always just go for the classic sheepskin boot.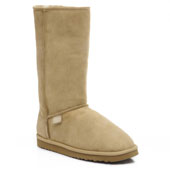 Safe, reliable and predictable; this boot has everything one could possibly want from a classic.
The choice is yours.  To help you make it, Just Sheepskin is offering free delivery on all orders throughout the UK.  Let's see who can resist the sheepskin boots now.