When you support charity, it provides a feel good factor, but what is also good about buying from an online charity shop is the vast range of gifts for everyone to suit all budgets. Websites like Dogalogue and Guide Dogs support the visually impaired, whilst the Oxfam Online Shop has a great range of new and second hand products, with the proceeds helping to eliminate poverty worldwide.
Help to Train a Puppy into a Guide Dog With a Donation Through Guide Dogs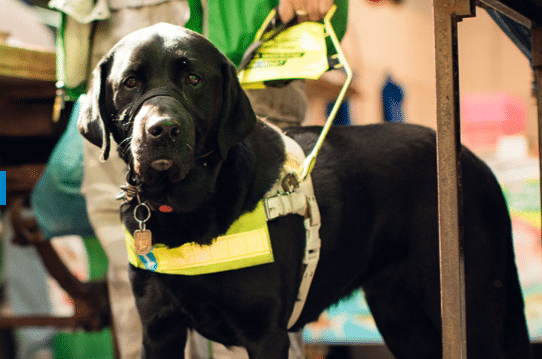 It is important for the visually impaired to retain their independence, which is where the Guide Dogs charity is a helpful aid. This charity helps to train puppies into guide dogs, and you can support their cause with a one-off, or a regular donation. Read the inspiring stories online, how you can get involved and help the cause, plus discover more about the services Guide Dogs provide to those in need.
Your donation goes to help Guide Dogs provide various services for the visually impaired. This includes CustomEyes Books, which is a large print book to help children's eye conditions, while the sighting guiding service provides free guiding training for friends and family to promote freedom and independence for those with a visual impairment.
Choose to sponsor a puppy from just £1 per week, make a one-off donation, join the campaign, sign up as a volunteer, or buy from the online shop for a great range of gifts to support charity. Read the inspiring stories to find out how the Guide Dogs charity is helping others.
Support Charity and Help to Train Guide Dogs When You Buy Gifts Through Dogalogue


If you want to help a good cause in helping the visually impaired and children with eye problems, support charity when you buy through Dogalogue. Categories include cards for all occasions, or you can choose to buy a bumper card pack. There are also a great selection of calendars and stationery. The gift ranges include puzzles, books, and food treats.
The statistics on vision loss at Dogalogue say that every one somebody in the UK starts to lose their eyesight. When you buy a gift through Dogalogue, 100 percent of the proceeds go directly to the Guide Dogs charity. There are a great selection of mugs and folding bags in the home and outdoor living category. There is also a selection of pet gifts, including dog treats, dog toys, and even pet wine. For a limited time apply promo code: D19G003 for 10 percent off.
Support Charity and Help to Fight Poverty Worldwide When You Buy Through the Online Oxfam Shop


The Oxfam Online Shop has hundreds of thousands of products ranging from books and music to vintage clothing and collectables. If you love eco friendly products and fair trade foods, you can browse the food and drink category. There are high street Oxfam shops, but you can also buy online with shipping costs just £3.95 per order, plus they offer free returns.
If you prefer to buy a gift to fight poverty and support charity, browse the Oxfam gifts category for a great range of gift ideas, including providing shelter and warmth, safe water for a community, a goat, or even food seeds.
There are other ways to support charity with Oxfam, which is to campaign and join the fight against poverty and injustice, fundraise through its various events, or volunteer and develop skills. Read about the latest Oxfam events online and take part, if the event appeals to you. Join the Oxfam newsletter to receive the latest updates on how you can help to fight poverty worldwide. Fairtrade foods and drinks help to pay a fair wage to farmers, and sadly there are not enough Fairtrade products in the mainstream supermarkets so it is important for each of us to make individuals choices that can, little-by-little, impact change in this world.