Should you be planning a Christmas meal or dinner, shopping in the later part of November and December can not only be bothersome but extremely tiring. Everyone loves a really great home cooked meal but not many love to do the shopping and cooking. This year you can take a break from the cooking or simply make your shopping easy.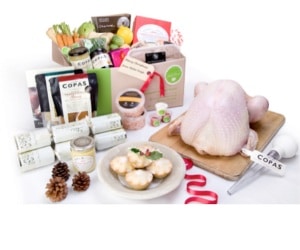 For those who hate the hassle of shopping, you can get a fantastic Christmas box from HELLO FRESH with all your meal ingredients such as Copas Turkey, christmas pudding, mince pies and even some extra tasty treats. Price may vary based on location however rest assured all your items will be delivered with sufficient time to get knick knacks that may be missed. This Christmas box can be modified to fit the number of your guests. Don't waste time, shop early and save 25% on your shop before December 25th.

Should you be looking for fresh ideas and not having to cook, get a ready made meal to feed up to 4 for £20. With this fantastic idea you can feed up to 10 persons for £40. Choose from an assortment of turkeys, pork and lamb roasts, baked potatoes, vegetables and desserts of your choice. Visit ICELAND today and get free delivery with every spend over £25. These are simply a couple of ideas but you can visit your favourite shop and shop like you usually do or make your life simple by ordering from HELLO FRESH or ICELAND.