Christmas is a great time to give gifts, whilst also bringing joy to others. Gifts like chocolates and gadgets are always popular ideas, but if you want to make a gift extra special, why not personalise a gift for your friends and/or loved ones this Christmas. Websites like Snapmad and Snapfish UK have a good selection of personalised gifts for friends and loved ones, while My 1st Years has a vast range of gift ideas to personalise for children and adults.
Snapfish UK Offers a Vast Choice of Personalised Gift Ideas
If you are a rather creative person, why not gather some photographs and create your own photo book through Snapfish UK. Email or scan the photographs to your phone or computer, and follow the easy instructions to create a photo book. For a limited time only save fifty percent with code: SFUK895.
Perhaps you prefer to create a canvas print with four or five photographs? Snapfish UK gives you a vast number of options to create your own personalised canvas masterpiece. There are also great home décor gift options available including a chopping board, coasters, phone cases, and even photo cushions.
Snapfish UK often have discounted option for selected items with the use of a selected voucher code, so look out for these, or sign up to receive alerts to the latest online offers. It is not clear if Snapfish UK offer free delivery to the UK, but they delivery to twenty-nine European countries.
Simplify Your Personalised Gifts This Winter Season With Snapmad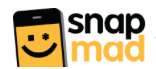 The humble mug is a kitchen item that is used regularly throughout the day, especially if you enjoy your tea, coffee and other beverages. Mugs come in various sizes and shapes and the deserve a special touch, so why not visit Snapmad and personalise a mug for your friend or loved one as a sentimental Christmas gift that he or she will love and cherish. Snapmad offer ten different mug designs and there is an option to include more than one photograph or design on selected mug designs. For a limited time, save on personalised mugs with an exclusive sixty-five percent off the recommended retail price.
What about photo prints? These start from just £0.08 (sale price) for a 5" x 3.5" print while the larger 60" x 30" is currently available at £23.39 with fifty-five percent off the usual price.
Wall art is another great gift option to personalise for your friends and loved ones this Christmas. There is an option to choose one of the various designs at the Snapmad website, or create your own.
Finally, canvas prints come in a variety of sizes and are an affordable gift to personalise. For a limited time only save twenty-five percent off your order with code: DISCOUNT25. Delivery is free to the UK on orders over £5.99 making regular photograph printing an affordable option.
For Personalised Gifts For Babies & Infants Visit My 1st Years

With its simple website design, My 1stYears offers categories on clothing, baby shoes, accessories, and gifts. They offer free personalisation on all products, plus a free luxury gift box to make your gift purchase feel even more special. When you click on a category, you then get the option to find a product for your chosen infant age range, or you can browse products via the price from gifts under £20 to gifts over £50.
There are also personalised gifts available for adults, making My 1stYears a great place for families to source memorable quality gifts. Save up to fifty percent off personalised gifts for children and adults this festive season, available for a limited time only.
Unfortunately, free delivery is not an option, but standard delivery starts at £3.95 for UK orders.
To Summarise
When you want to bring joy to your friends and loved ones this Christmas season, consider a personalised gift. Whether you opt for a mobile phone cover, photo cushion, or canvas print, the fact that you have put in the time and effort to personalise a gift will leave a lasting memory in the mind of your friend and loved ones.