At one point in time, I seem to remember voluptuous simply meaning beautiful.  Perhaps I was mistaken in not associating any significant physical characteristics with the word, but I have come to realise that it means attractive and curvy.  Or, perhaps, larger than average.
But here we come across another slightly problematic phrase, average.  As we are constantly being told, the size of the population (as individuals) is growing so surely the average must be changing too.  I'm not advocating obesity, the evidence is conclusive that being significantly overweight is dangerous to the point of life threatening.  But we can all agree that being 'size zero' is just as dangerous and potentially life threatening.  Therefore, why not settle for healthy and happy?
Every body is different, and for some people, healthy is a size 8 while for others it's a size 16.  In fact, a lot of evidence – by which I mean mildly unreliable polls in magazines – seems to indicate that men find the curvier women sexy.  So what makes a curvy woman sexier? Well fitted and flattering clothes.  This is where plus size clothing comes into play.
This patterned body con dress accentuates all the curves by clinging to them but is patterned and busy enough that it masks any imperfections that you may not want the world to see meaning that you can confidently strut about town knowing that your sass will turn heads.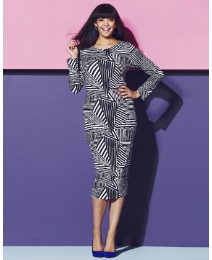 http://www.simplybe.co.uk/shop/
In fact, 'Simply Be' have ranges from 17 top designers including Grazia and Gok, which can be got in sizes 14-32 exclusively from their website.  They are offering 10% off your first order regardless of the season or style of that order's contents.
https://www.newdiscountcodes.com/codes/26611/10-off-first-orders-including-new-season-styles
'Yours' is another website that caters exclusively to plus size women and, like all the other fashion websites and outlets, they have just released their Spring Summer collection and it is perfect.  On a hot day you don't want outfits or fabrics that are going to be tight or stifling but you also don't want to look like you opted to wear a variety of circus tents for the duration of August.
This dress strikes the perfect balance; soft and floaty to stop you getting too hot whilst still gathering under the bust and being the best length to have you looking your summery best.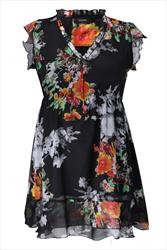 http://www.yoursclothing.co.uk/P/Black_smudge_print_tunic_with_frill_sleeves-(17399).aspx
Given that British summers don't have the best track record for actually being hot you may find yourself modelling that spring wardrobe right through to autumn.  If this is the case then 'Yours' is very much looking out for you.  Their range of tops, to couple with the perfect jeans, will have you looking your best even when the supposed summer weather is getting you down.
This asymmetrical top is ruffled and light enough to leave the majority of your contours to the imagination but it emphasises the bust – and why wouldn't you want that?
http://www.yoursclothing.co.uk/P/Black_magenta_printed_asymmetrical_top_with_ring_detail-(17355).aspx
In fact, you can revolutionise your wardrobe with a £10 off a £50 spend offer from 'Yours'.
http://www.yoursclothing.co.uk
https://www.newdiscountcodes.com/codes/73827/brilliant-deal-10-off-50-spend-new-customers-at-yours-clothing