For a long time the suit has been a typically male phenomenon.  However, like many items of once exclusively gendered items of clothing it is spreading across the board.  It is becoming increasingly difficult to even refer to clothing as overly feminine or masculine and this is probably a good thing – so long as we don't all end up in matching boiler suits.  Where would fashion be then?
The standard formal suit puts men and women on something of a more even playing field in the workplace and it seems that actually the wider scope of colours and styles typically associated with women's clothing have merged with the standard suit to form a seemingly limitless range of outfits for women.
This tailored jacket has the hot pink colour, ruffled collar and fitted style which mean that it is only loosely inspired by a suit jacket and has actually become an exclusively female item of clothing: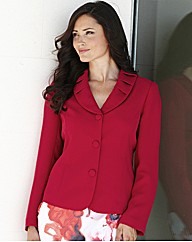 Even the more subtle designs, in the right colours and as part of the right ensemble can be a real asset to a women's outfit and would look out of place on a man.  It is really only the colour of this jacket that makes it more suited to a woman and, in fact, with a jacket like this it is more suited to a smart casual outfit.  The open design and the deliberately rolled up sleeves make it perfect to go with jeans rather than tailored suit trousers.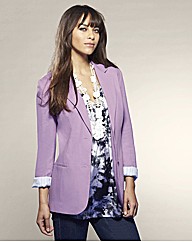 This raises the very important point of the ensemble.  For the average male suit it would seem that the shirt and tie or open shirts are your only options.  Of course this isn't really limiting because there are many options in the shirt category.  However, for women the materials, styles, patterns and colours are limitless.  Although women have been wearing suits for decades it is still an outfit that is somewhat reinventing itself for both men and women.  You can get away with a silk top, a fitted blouse, a patterned t-shirt perhaps or any form of accessory as long as the basic skeleton of the suit remains the same.
For those who are more inclined to opt for the traditional suit colours and styles there are, of course, outfits out there for you too.  The neutral shades offer stylish suits which define your shape through tailoring without being too statement.  This tailored jacket is a perfect example of just that.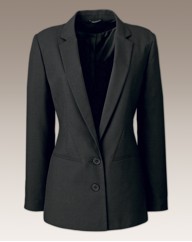 As you can see, the options for female suits and tailoring are, in many ways, much wider and more exciting than the male counterparts which preceded them.
At JD Williams there is currently 10% off all first orders and an exciting 50% off sale happening too.  The potential for savings is huge.  It's time to dress to impress.
Save up to 50% in Sale at JD Williams