Tis the season to be jolly, but it is often no fun when you are not sure what to buy your friends and loved ones. Gadgets can be fun, but why not invest in a gift that will be utilised daily. Gift ideas like memory cards, portable phone chargers, and kitchen appliances are a useful choice for Christmas gifts. Online sites like My Memory and Electric Shopping provide a great selection of gifts in these areas, at affordable prices. Finally,I Want One Of Those is a fun site that has a great range of stocking fillers, clothing, electricals and more.
Visit My Memory for Fast Charging Devices & Affordable Memory


If you need a memory card or stick, gaming accessories, or even smart home devices, visit My Memory for great gift ideas this Christmas. The battery life of a mobile phone can be stressful, especially if you find that after a few hours of gaming and website browsing or shopping, the battery is already low. Portable charging devices are a good gift idea for your friends and loved ones, as the device often provides enough for two full charges.
My Memory is easy to navigate, plus you can browse the top 25 Christmas gift ideas and 3 for 2 deals on selected items, helping you save up to £17.99. Free delivery is available, plus the site also offers free returns. Top brands sold here include SanDisk and Kodak. Take advantage of the latest promo code on retro arcade gaming consoles with 10 percent off using discount code: RETRO.
Buy Kitchen Appliances at Affordable Prices Through Electric Shopping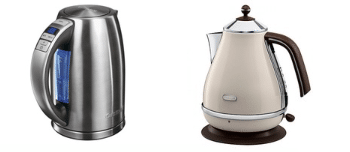 Kitchen appliances vary in prices, styles, and colours. Products like kettles, coffee makers, slow cookers, and food processors are items that will be used daily, so consider these are great gift ideas for your friends and loved ones this Christmas. Electric Shopping sells top brands at discounted prices, or you can shop via brand, or price dependent on your budget.
Electric Shopping offers a price match promise, so should you find a branded product cheaper elsewhere they will match the price. Enjoy free delivery on orders, plus delivery to European countries starts from just £5.50. There are always special offers available so shop for discounted kitchen appliances, home and garden products, plus health and beauty products too.
Choose I Want One of Those for the Ultimate in Gift Ideas This Christmas Season

If you want a website that is easy to access, with great gift ideas ready to add to basket and checkout, visit I Want One of Those. For a limited period, choose five selected products for just £20 with discount code: 5FOR20 a great affordable choice of stocking fillers. Also worth a browse are the gifts under £5. Browse the latest offers to save up to 40% off selected items at I Want One of Those.
Browse the gifts for him and the gifts for her, or opt for clothing with popular styles by Star Wars and Disney. For music lovers, the retro turntables are a great gift idea this Christmas. Delivery is free on orders over £30, while standard delivery on orders below £30 is just £2.99. Worldwide delivery is available from just £2.99. The blog is a great read for gift ideas, trends and inspiration, food, and the latest products.
In Conclusion
Items like phone cases, portable chargers, and memory cards are always a good investment for all occasions, including birthdays and Christmas. Prices vary dependent on the brand but visit I Want One of Those and My Memory to find these particular products at a price to match your budget. For kitchen appliances and accessories, Electric Shopping is a worthwhile website to visit for authentic branded kitchen appliances that will last.