If you are one of those people who forget birthdays, then you have probably also forgotten that Mother's Day is 31 March 2019. No need to panic though! You have enough time to search for last minute mother's day gifts online and in store, but you had better order in time for prompt delivery. The price of flowers often shoots up during seasons like Mother's Day, or Valentine's day, but don't let this put you off from buying a bunch of flowers online last minute mother's day gift. Websites like Bunches have a great selection of bouquets with prices to suit all budgets. Beauty Expert has a great selection of cosmetics, skincare by top beauty brands including Elizabeth Arden and La Roche-Posay. Finally, a hamper is always a lovely gift to give your mother on her special day, and Virginia Hayward Hampers has hundreds of hampers to choose from.
Search Luxury Bouquets as a Last Minute Mother's Day Gift at Bunches

There are a great selection of gorgeous mother's day bouquets at Bunches, with prices from just £19.99, and some bouquets include a chocolate gift, or alcoholic beverage, too. Choose from tulips, roses, freesias, carnations, lilies, and many more. UK delivery is free on all orders from Bunches, plus they also offer a courier service to ensure that you receive the flowers on time.
If your mother would prefer the gift of a plant, Bunches has a great selection of mother's day plants with prices from £20.99.  Bunches also have a great selection of pamper sets, which include bath bombs and bath salts.
Each bouquet has a 7-day fresh guarantee, plus 10 percent of profits go to charity. Save an exclusive 12.5 percent off with discount code: VCMUM19.
Buy Products For Your Mother From the Best Beauty Brands & Save Over £100 Off Selected Gifts at Beauty Expert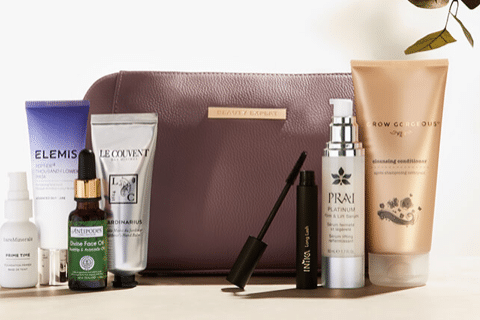 Luxury skincare doesn't have to cost the earth when you have great value websites like Beauty Expert that always have great offers on top brands. Top brands include Decleor, La Roche-Posay, and Elizabeth Arden. The current exclusive offers include saving over £100 off The Beauty Expert Collection, a free gift plus 25 percent off when you spend £60 or more on Decleor, and save up to 30 percent off Kerastase products.
There is a huge selection of last minute mother's day gift ideas available at Beauty Expert, from skincare and make up to beauty tools and fragrance. The Beauty Expert blog is also helpful and gives you the best tips on how to layer skincare, plus how to choose a home fragrance. Browse the current Beauty Expert voucher codes for amazing savings on top beauty brands. Standard delivery is free on all orders. For a limited time, enjoy an exclusive 15 percent off your order with discount code: SEASON.
Shop Last Minute Mother's Day Gifts at Virginia Hayward Hampers


Choose from 35 mother's day luxurious hamper gift ideas at Virginia Hayward Hampers, with prices from £19.99. Food hampers include cheese, wine or deli hampers, plus there are also specialty hampers that are perfect for diabetics and vegans. Letterbox hamper gifts start from £14.99, plus there is a great range of alcoholic hamper gifts, including gin, prosecco and champagne, plus tea and coffee hamper gifts for lovers of tea and coffee.
Standard delivery is available on orders, plus there is a next day delivery option with includes an additional £1 surcharge on standard delivery prices. Virginia Hayward Hampers have over thirty years of experience in creating luxury hampers.  For an selected period, use exclusive discount code: VHL-WGAFGEN for 5 percent off.