Do you class yourself as fashionable and want to set a trend? Men's designer clothing is available at many online websites and high street shops, and with such competitiveness the prices are often discounted to make it affordable for everyone. Online fashion stores like Standout and Moss Bros. sell a wide range of men's clothing and accessories, often by top designer brands, while grooming products and accessories are available on the Mankind website.
Shop the Men's Designer Clothing Collection at Standout – The Men's Fashion Store


When you need jackets and coats, footwear, t-shirts, underwear and more by top designer brands like Superdry and Levis, visit Standout – The Men's Fashion Store. With its easy to navigate website, it is super easy to find the clothing or accessories that you require. The goal of Standout is to help men get access to top designer brands, without the cost burning a hole in your pocket. The online website started small with several brands, but continued to expand to include further designer brands.
Free UK delivery is available on orders over £24.96, plus free UK returns and exchanges are available. Standout also has a helpful blog that is regularly updated, which includes top clothing picks, men's style bloggers to follow, and how to look good in loungewear. Visit the sale to find men's designer clothing at discounted prices.
Look Your Best With Men's Grooming Products & Accessories at Mankind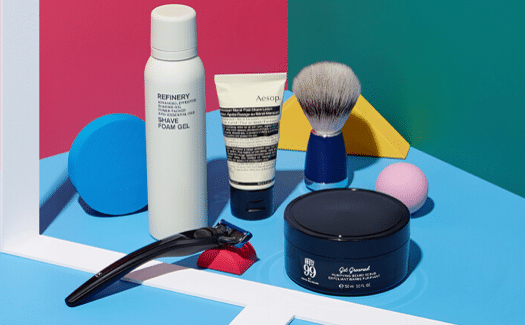 For men's top skincare and grooming brands, including House 99 and Hanz De Fuko, visit Mankind. You'll find categories covering everything from hair care and shaving to skin and dental care. There are always affordable offers where you can buy top brands at discounted prices. Free UK delivery is available on all orders, plus when you refer a friend they will get a discount on their order, plus you will earn credit to spend in store at Mankind.
There is also a helpful blog where you can read about the latest limited edition products and other recommended skincare products for men. For a limited time use promo code: SHAVE to save 20 percent off your order.
Shop Moss Bros. For Men's Designer Clothing & Suits at Affordable Prices


With over 168 years of tailoring experience, Moss Bros. has a range of men's designer clothing, accessories, and suits at affordable prices. The categories include suits and tailoring, coats, shoes, casual, and more, plus you can shop via occasion. Moss Bros. offer free delivery on orders over £75, plus they offer free return and exchanges too. Students can enjoy a 15 percent discount by signing up with UNiDAYS.
If you prefer to hire a suit, Moss Bros offers a suit hire service called Moss Hire. Featured brands include DKNY, Hugo Boss and Savoy Taylors Guild.  Shop the clearance section with suits from under £40. For a limited time use promo code: NEW10 for 10 percent off new season items.
To Summarise
There are many online stores selling men's designer clothing, including Standout for casual clothing and jackets, while Moss Bros. offers a suits and tailoring section, plus a suit hire service. For men's skincare and grooming visit Mankind. There are savings available too with the relevant promo codes available at Moss Bros. and Mankind, refer a friend through Mankind, and student discounts available with Moss Bros. Men's designer clothing doesn't have to cost the earth when you know where to shop online. If you don't want to pay full price then shop the clearance sales and outlets at Mankind, Standout and Moss Bros.