With so many fast food restaurants available on the high street, and online apps where you can have your favourite fast food delivered direct to your door, is it any wonder why there is an obesity epidemic worldwide? Huge portion sizes, all you can eat buffets, and lack of exercise contributes to an increased waistline and feelings of lethargy, low self-esteem, and even feelings of depression.
A takeaway is best eaten in moderation, and healthy options include sushi, grilled chicken, salad (without fatty dressings), and thin base pizzas. It is also cheaper if you can learn to cook meals from scratch. Fast food made healthy can be simple with a little practice.
Fast Food Made Healthy With Chicken


Chicken is a healthy protein-rich food source, but it can become high in fat when it is deep-fried. Opt for chicken breast when you eat out, or when you order a takeaway, as it contains no skin and is a perfect source of protein to satisfy hunger. Chicken breast can be marinated in lemon juice, herbs, and spices to add flavour. Nandos is a good choice, as their chicken is marinated in its special peri-peri chicken and then flame grilled for extra flavour.
For Pizza Lovers – Fast Food Made Healthy By Halving A Pitta Bread


Pizza is one of those food products that most people enjoy. There are popular fast-food chains like Domino's and Pizza Express, while Pizza Hut is one of the most successful restaurant chains worldwide, and pizza can be delivered straight to your door. There are various pizza sizes from an individual sized nine-inch up to a family sized eighteen-inch pizza. A thicker crust pizza is higher in calories than a thin base pizza, but thicker crusts can be filled with cheese for extra flavour. Popular pizza toppings include pepperoni, chillies, anchovies, pineapple, and various cheese types.
If you have the time to create your own pizza, why not add your toppings by halving a wholemeal pitta bread, adding tomato puree, your chosen toppings, and grated cheese for pizza fast food made healthy. Pitta bread retains its crunch and is a tasty and lower calorie option against a restaurant or takeaway pizza. An average large wholemeal pitta bread contains approximately two-hundred calories, so you could have two full pitta bread pizza and still consume fewer calories than a standard sized nine-inch pizza.
Protein Rich Sushi and Rice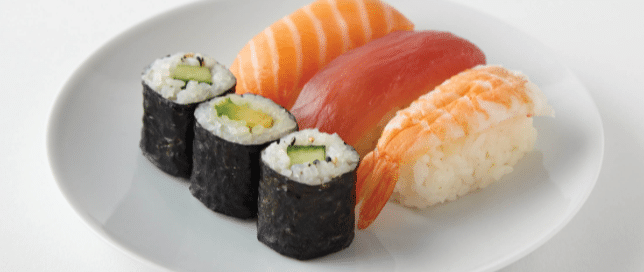 I remember the first time I ever tried Sushi, because I'd always thought 'eww raw fish', but I was pleasantly surprised by its freshness and delicate taste. The sticky rice surrounding tiny pieces of cut vegetables and avocado is delicious with a little wasabi and soy sauce, and the raw fish is cut to size and fitted perfectly onto its mound of rice. They are given names like Nigiri Maki and California Roll.
A portion of sushi might not look a lot, but it is very filling and also a healthy fast food made healthy takeaway option that is low in fat. The Japanese are known for their healthy hearts due to consuming high amounts of raw fish, and fish types like salmon and tuna contain the healthy omega-3 essential fatty acids, which protects both the heart and brain, and also has anti-inflammatory benefits.
Sushi restaurants also have other food options on their menu, if raw fish is not your favourite choice of food. Miso soup is another healthy option also low in fat. Yo Sushi is a popular fast-food made healthy restaurant available in the UK and worldwide that has a versatile food menu to suit all people.
Discount websites like Groupon and Wowcher often include a selection of activity days including learning how to make your own sushi cooking classes for a set price, or you could watch YouTube videos for inspiration.