There seems to be a growing trend in fashion to put stylised, artistic representations of food on clothing.  Especially children's clothing.  It's something I've been giving a little thought to because it would seem to be quite far removed from political correctness, or moral decency, to have the average hungry person drooling when they see a child.  Of course, the average hungry person is drooling quite simply because they are hungry and the child is wearing a picture of a large piece of cake proudly on their t-shirt.  Though, for some children – probably the younger ones – it may not be a picture of cake on the t-shirt but an actual smear of Victoria sponge from lunch.  But this blog does not concern the hygiene of the young.  It concerns their food themed attire.
After a little thinking and soul searching it hit me.  The power of the pun.  Everyone knows that an appropriate compliment for any person's offspring is to call them cute or, more likely, sweet.  What else is sweet? Cake.  And there we have it, in a nutshell.  It's digging for compliments on a very small scale.  See what I did there? Another pun.  They're everywhere.
So surely, you look at something sweet on a t-shirt, like cake or candy perhaps and associate those qualities with the wearer too.  Everyone comes out a winner.  It's a sure fire success story.
This baby, for example, if they are – as all beautiful babies should be – chubby, then the fact that they have 3 cupcakes on their t-shirt isn't a problem at all.  The standard 'this baby is sweet because they have sweets on their t-shirt' journey takes place, but, in this case, can be followed by a 'fat makes this baby look cute with their 3 cupcakes on their t-shirt, maybe if I eat 3 cupcakes then I can be fat too and people will think I'm cute' thought journey.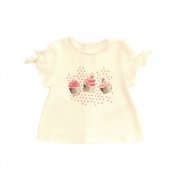 http://www.hurleys.co.uk/girls-c271/baby-c338/billieblush-baby-cupcake-t-shirt-in-off-white-p75569
I wonder if the cupcake industry, as a whole, is getting a cut from the sale of this t-shirt.
This next t-shirt probably inspires less realisation in the voyeur and is just a standard sweet = sweet discovery.
http://www.hurleys.co.uk/girls-c271/baby-c338/billieblush-baby-lollipop-t-shirt-in-off-white-p75577
After all, who doesn't love lollipops?  Lollipops with girls sitting on them are perhaps less popular if only because the eating becomes so much more difficult.  I can't help but feel grateful that these t-shirt designers steered clear of the telescopic minuteness of the girl on the lollipop holding a lollipop having a girl sitting on her lollipop holding another lollipop with the girl sitting on that.  It would, of course, end in tears.
The sweet craze doesn't seem to end with babies either.  This t-shirt is designed for a slightly older girl.  Perhaps she is already clinging to a simpler time and hoping to regress to babyhood.  Somehow I doubt it.
http://www.hurleys.co.uk/girls-c271/tops-c334/billieblush-kids-cupcake-vest-in-off-white-p75592
The design is simple, and the fit is flattering without trying to prematurely age this girl into something which she isn't.  It's actually a lovely addition to any young wardrobe.  Couple it with jeans and converse and you've got a sweet young thing who's ready to just go out and play.
These tops and many other items of clothing for boys and adults are currently fantastically reduced in the Hurley's up to 70% off sale.  So head on over to the site – I bet you could snap up some 'sweet' deals!