Though it might look like some sort of secret code and in fact, may well be for all I know, it's also a gift to you.  In the fashion world there are just as many abbreviations as there are anywhere else.  HoF = House of Fraser.  SS13 = Spring Summer collection 2013.  For most popular brands these have just been revealed and for a retailer like House of Fraser which sells products from a range of sought after designers, these styles and looks are very exciting both as products in their own right and as indications for the trends of this upcoming spring summer season.
As we are heading into the warmer months it seems quite logical that most of these styles are designed to flatter and comfort.  We are therefore unsurprised to see a wide range of fit and flare styles and skater dresses are still proving themselves to be a big hit all year round.
This Ariella dress is evidence of the popular fit and flare but is also a good example of many of the other things that we can read about the new trends.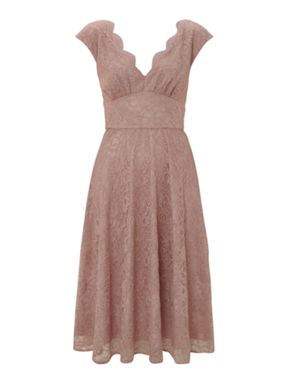 http://www.houseoffraser.co.uk/Ariella+Lace+v+neck+full+skirt+dress/173440301,default,pd.html
The lace detailing is in plenty of evidence on many other dresses, proving especially popular on the formal styles and has the added benefit of giving the dress layers and weight.  The layering is seen across the board in a variety of silk and chiffon styles which have always been popular for formal wear.  Following the trends set at events like the Golden Globes, the pink colour is reminiscent of many of the nude dresses gracing the red carpet.
Similarly, monochrome is still in – having proved very popular on the red carpets too.  A combination of the fact that a lot of these styles are for day wear and that this is a collection for warmer and lighter months has meant that monochrome with a dash of colour is widely available in this collection.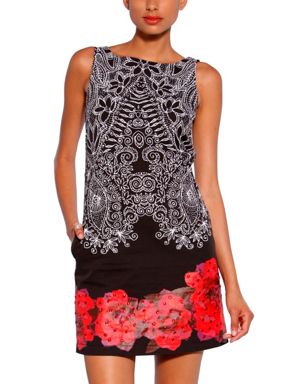 http://www.houseoffraser.co.uk/Desigual+Lisa+Dress/181252576,default,pd.html
This stylish shift dress leads me on to another two trends that are dominant in this collection:  The first is, in contrast to the fit and flare styles, shapeless shift dresses and baggy tops and jumpers.  In line with the season and potential for warmer climates, it seems sensible to have clothing with lots of air flow.  Though typically considered unflattering, these styles – if worn and designed correctly – give an air of relaxed chic.
The only thing giving this Linea dress shape is the slight ruching at the back but the material and the pattern mean that it still manages to flatter the body and attract the eye.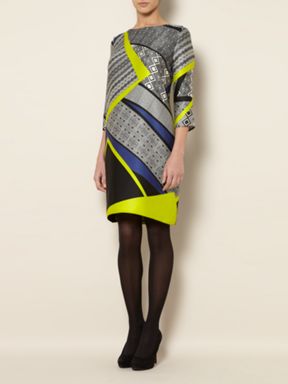 http://www.houseoffraser.co.uk/Linea+Tribal+ruched+back+3/4+sleeve+dress/177882911,default,pd.html
The second trend in this collection is big patterns, often in bold colours, on tops and dresses.  These huge splashes of colour really make the wearer stand out and they also highlight the colours present throughout nature during the Spring Summer period.  There's also something very attractive about these strong design choices that I can't quite put my finger on.  Perhaps it's their power and light.  There's something inherently positive about bright colours and with big designs they can infuse the wearer with the confidence the designer had in making these big choices.
This Desigual top concentrates all its pattern and colour onto the front, meaning that people can be in no doubt as to where to look.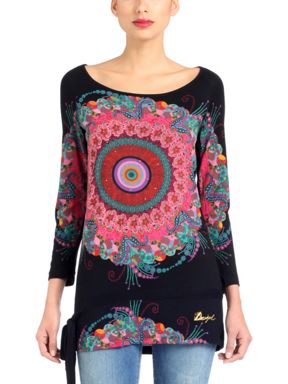 http://www.houseoffraser.co.uk/Desigual+Lendula+Long+Rep+T-Shirt/181259196,default,pd.html
So check out the HoF website for yourself and discover the things you love in their SS13.
http://www.houseoffraser.co.uk