In essence it's a strange one.  Cushions are surely designed to be sat on, they should improve comfort and, to put a slight spin on a very well known phrase, they should be felt and not seen.  Decoration on the other hand is the opposite of a cushion in pretty much every way possible.  They should not generally be sat on and would therefore not make you more comfortable unless it was easing some discomfort generated by a blank wall or a bare lightbulb!  Decoration should probably not be touched and should most definitely be seen.
So why do we all love decorative cushions so much? Probably because they're excellent.
Decorative cushions are usually found on beds, sofas and chairs.  Actually they can be used to add to the comfort of something.  A friend of mine thinks that there is nothing in the world more comfortable than sitting with a cushion under each arm clamped against your body, try it, see if you agree.  Either way, they are additional padding and that's almost never a bad thing.
In terms of the decorative aspect, a cushion can serve many functions.
A plain coloured cushion like this one can really bring something out in the colour scheme of the room.  This one might match a red ornament somewhere in the room or a faint pattern on the wall paper and suddenly that ornament or feature absolutely fits – it even becomes more eye catching.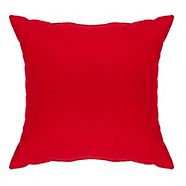 Another function it might serve is to be the feature of the room.  A couple of busy decorative sofa cushions in a whitewashed or light shaded room can really lift it from the realms of bland to stylistically minimalist.
This designer purple patchwork cushion might do just this;
A decorative cushion can even be used to set the tone in the room or alter the mood.
A cushion like this instantly says that the room is a boutique, that the owner is something of a diva and that sparkle will never be out of place in their life.  You can get all that, just from a decorative cushion.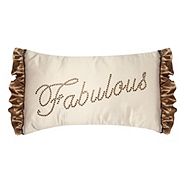 This one, on the other hand is either an emphatic statement about your love of French bulldogs and just dogs in general.  It's also quite hilarious as a feature in any room.  If you are not a person who has a dog or has ever expressed any interest in dogs then this bizarre cushion says that you at least have a sense of humour!
So decorative cushions are brilliant.  They do serve the purpose of every other cushion, they are cushions after all but actually you can see that they also serve many decorative functions.
All of these cushions and so many more are available from the Debenhams home department and luckily for you there is currently 25% off across the whole range.  There has never been a better time to fill your house with cushions.