Whether you are wearing fantastic lingerie for someone else of for your own confidence, there is no excuse to not look your best underneath your outifit – unless it's laundry day.  That's usually a perfectly acceptable excuse.
Fabulous underwear can really lift your self-esteem and make you walk with a certain swagger regardless of the outfit you wear on top of it.  The great thing about Lingerie, just as with so many other things, is that there are options.  You can go for complete sets or mix and match the bras and knickers that you think go best together.  Ultimately, you decide your look, and you decide what that says about you.
This lingerie set has an almost girlish vintage look and the pale colours can compliment or contrast any skin colour and suit everybody.  The longline bra makes the bra a hybrid between bra and corset and this would seem to indicate that it's a set that can be perfectly worn alone in a beautifully innocent and yet completely alluring way.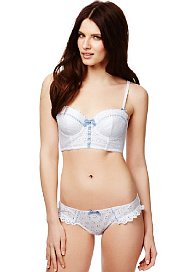 This set is great value as it offers 2 sets for a very reasonable price.  The two patterns are stylish and contrasting.  You could mix and match the set or wear it complete.  The plain coloured version means that it can be worn under a thinner top and not show through which is a bra style that every wardrobe needs.  The patterned design is seasonal.  It feels like a bra you would wear to welcome the SS13 collection and, what do you know, that's what we're all doing now.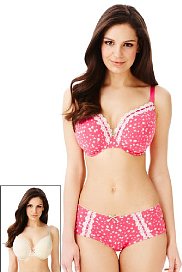 Knickers alone come from 2 fairly distinct camps.  There are the sexy lace, borderline see through, knickers versus the comfortable cotton pants that you can feel totally secure in.
These lacy knickers are in strong colours to emphasise their existence but completely lacy to leave little to the imagination too.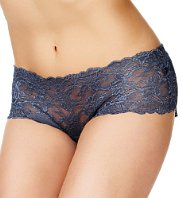 These high rise comfort shorts have a little lace on the edges to add a flourish but the high rise size and the cotton material mean that they also provide the ultimate support and they're attractive too.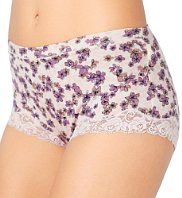 The range of bras offered by M&S is almost limitless.  They offer padded, plunge, t-shirt, wired, non-wired, sports and many more.  In fact one of the best things about the M&S bra range is that they also sell a whole range of post-surgical bras which provide padding and non wired support for people who have had mastectomies or similar procedures.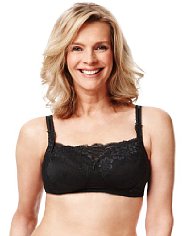 M&S currently have more than just a great sale on their lingerie.  They also offer £5 off when you spend £30 on lingerie.
https://www.newdiscountcodes.com/codes/94998/save-5-when-you-spend-30-on-lingerie