Personally, I am of the firm opinion that one of the best things about modern technology is the digital camera.  It would seem that technology agrees with me.  Practically everything these days comes with a camera in varying stages of technical advancement.  Phones, computers etc. – they all feel the need to double as cameras.  Why?
Throughout history, people have found ways to preserve moments in time.  I'm no historian but stone carvings and etchings seem to have come first.  Portraits allowed people to choose how they wanted to be pictured by making requests directly to the painter.  I suppose you could call it the very earliest version of airbrushing.  Come to think of it, maybe that's where the brushing in airbrushing comes from.  After painting, the preservation and cataloguing of time has become the work of the camera.
The digital age has been an absolute blessing for photography.  Currently we completely take for granted the fact that we can see our pictures as soon as we take them and delete anything that we might perceive to be unflattering or incriminating.  Mind you, with the advancements in digital camera technology it seems pretty difficult to take an unflattering photo.  With facial recognition, red eye control and anti-blur technology on the most recent models as standard; technology is absolutely on our side.
It's not just people that these beautiful machines can flatter to the ends of the earth.  There was a time when a camera would have to be held in position for several minutes in order to fully capture the image.  Nowadays, we can capture a moment in time with such immediate precision that nothing is off limits.  Fireworks, for example can be captured in the second of their bloom.  That moment when confetti is thrown into the air at a wedding is a beautiful, unique moment and digital cameras allow that moment to live of forever.
It's not a generally acknowledged phrase but the sentiment, more megapixels than sense seems quite apt for some of these incredible advanced cameras:
This professional looking Fuji FinePix camera makes any amateur photographer look like an expert.  It comes with a very generous 4GB memory card and a bag designed to protect your shiny new memory maker.
Though this camera has a slightly less impressive zoom, 20x compared to 30x – it actually has better picture quality 16MP compared to 14MP and its compact size means that it can be taken anywhere, very conveniently.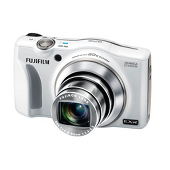 Asda currently has a fantastic sale on all cameras and accessories – which seems to include everything you might possible associate with cameras.  This special offer gives you a further 10% off!  I think it's time to make some memories.
https://www.newdiscountcodes.com/vouchers/asda-entertainment.co.uk