When you're pregnant, or if you're planning to be pregnant, there are some people who feel swollen and red and somewhat like a beached whale and there are others who bloom into their full potential and never want to stop being pregnant.  Either way, one of the main ways that you can encourage or support your blooming months is to find the perfect maternity style to suit you.  Here are a few ideas for looks you might like to try:
First things first, being pregnant is not a fashion limitation.  If anything it's an asset – something to make you and your outfit stand out from the crowd.  There's also nothing that that isn't sold in a maternity fit and it can still be just as flattering.  I mean, who would have guessed that skinny jeans would be such a flattering choice for a pregnant woman:
http://www.cravematernity.co.uk/products/indigo-skinny-jean.html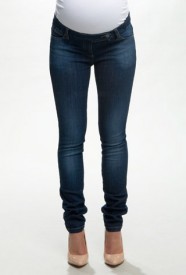 If that's the sort of look you want to go for then there are many options to allow you to really show off your baby bump.  Be warned though, during pregnancy, your belly will become public property.  All notions of personal space seem to absolutely go out the window so if you plan on wearing slightly more fitted clothes then be aware that there's nothing stopping anybody touching you.
On the other hand, you can go completely the other way and adopt the more Grecian model.  The lovely flowing dresses can accentuate the bust and flatter the bump.  Perfect.  Especially if they're in a colour as universally flattering as teal.
http://www.cravematernity.co.uk/products/teal-grecian-dress.html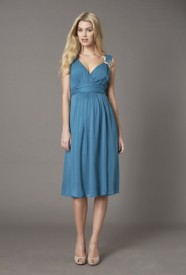 This sort of style and dress also solves the tricky problem of formal wear or office wear which can still make you look chic and sophisticated even when you're at the stage of pregnancy where walking properly and looking at your toes are things of the past.
However, with the weather as furiously cold as it is currently, and chances are will be every winter, floaty dresses probably aren't the most practical of choices.  When the weather's cold or you're feeling a little vulnerable then all you want to do is wrap up warm and feel protected.  If this is the style you want to go for then there is such a vast range of knitwear options, you probably won't believe it.  These are a more obvious choice for maternity wear.  It's naturally shapeless and can therefore be suited to any trimester and it's top of the leaderboard for comfort and durability.
http://www.cravematernity.co.uk/products/aran-knitted-dress.html
A jumper like this can protect you and warm you, given that it's been specially designed as maternity wear it will also celebrate your curves and not just make you look bloated.
In fact, Crave are helping with this style mission by offering a fantastic 20% off a £75 spend and free p&p:
https://www.newdiscountcodes.com/codes/44258/exciting-offer-20-off-when-you-spend-above-75-at-crave-maternity
So, take heed, pregnancy doesn't have to be about the baby.  Indulge in the fashions and you might not just be asked 'how far along are you?', you could just be asked where you got your great outfit.