Are you the type of person who sends Easter gifts of chocolates, cards, or flowers to your friends and loved ones year upon year? There are dozens of chocolate eggs available online and in store, but if you want a hint of luxury browse the chocolate collections at Green and Blacks, send Easter cards from the vast collection at Scribbler, and search for gorgeous Easter bouquets at Bunches.

Luxury Chocolate Easter Gifts Available Online At Green and Blacks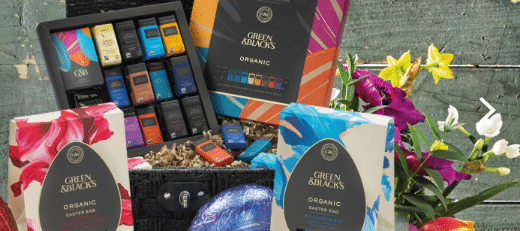 Organic chocolate is a luxury purchase, so why not visit Green and Blacks and browse the latest organic Easter egg collection. The fabulous flavours include Butterscotch Milk, Dark Chocolate, and Milk Egg.  If you're shopping on a budget, use the easy search facility to choose your price range and see what shows up. Whatever you buy from Green and Blacks, it's the ultimate in flavour and quality.
If money is no object, why not create your own Easter gifts through a chocolate hamper. Search for the chocolate icon online at Green and Blacks to earn chocolate reward points, which you can use to spend online for future orders. The Velvet Edition is Fairtrade chocolate and sustainably sourced cocoa from the $400 million Cocoa Life Programme, which aims to support 200,000 farmers plus one million community members across six popular cocoa growing regions by 2022. Delivery through Green and Blacks starts at £3.95 for orders up to £10, and delivery prices £5.50 on orders over £10. For a limited time, save 10 percent off chocolate gift orders with discount code: breeze.
Send Easter Gifts With Cards Through Scribbler


Time is ticking if you want to send Easter cards in time for the holiday season. Visit Scribbler for a great selection of Easter cards with same day dispatch on orders placed before 2PM. Use the easy website navigation to browse the card occasion, choose who its for, or get inspiration if you are struggling with what to buy. There are thousands of card options online, or you can browse the best sellers or the latest collections.
Delivery is free on all card orders, but remember to shop before 2PM for same day dispatch. For a limited time spend £4 on cards at Scribbler and save 10 percent with discount code: SCREASTER10.
Choose Gorgeous Bouquets as Easter Gifts This Holiday Season


Flowers always make a beautiful gift idea for a friend or loved ones, so visit Bunches to browse the latest Easter flowers with prices from £18.99 plus free UK shipping. Receive a free personal message card, care instructions for your bouquets, and free flower food.  Choose from fragrant freesias, colourful tulips, spring roses, or lovely carnations.
Bunches is an ethical company with a charity status. Its aim is to give a minimum ten percent of its profits to supporting the impoverished in the UK and the developing world, largely through its key partner Links International, so when you are buying from Bunches you can be sure that you are helping to support those in need worldwide.  Bunches is trusted family-run company with an excellent rating on Reviews. For a limited time save 12.5 percent with exclusive discount code: VCEA19.
In Conclusion
Easter is a time of celebration, and a good time to give a gift to others. If you want ideas on Easter gifts for your friends and loved ones, consider chocolates, flowers, or cards. Take advantage of the fabulous promotional offers at Bunches, Green and Blacks, and Scribbler this Easter holiday season.