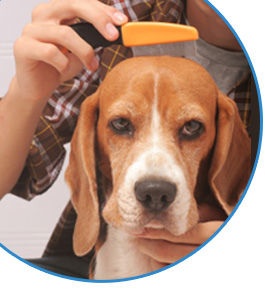 Taking care of your pets include protecting them from fleas and ticks. These un-welcomed pests are easy to pick up or attract, but are hard to find at times. An obvious sign of this problem however, is persistent scratching. This is common, and can be prevented, reduced or eliminated all together. By taking the following steps, you can protect both yourself and pets from these critters.
1. Wash all pet bedding and family bedding that your pets may come in contact with or lie on with soapy water every two to three weeks
2. Vacuum on a daily basis to remove eggs, larvae and adult fleas that are lurking around. Pay particular attention to areas such as cracks and crevices on the floor, baseboard, carpets, cushioned furniture and the basement. This is the best method to control a flea infestation. Should you suspect an infestation problem, stronger measures must be taken.
3. Steam clean carpets as the hot steam and soap can kill all stages of the flea life cycle.
4.Use a flea comb as this is an effective tool in suppressing adult fleas. Focus on areas such as the neck and tail area as this is where most fleas congregate.
5. Whenever fleas are caught (either through combing or vacuuming), deposit in hot soapy water as this kills them.
6. Create a tick free zone by keeping play areas and playground equipment away from bushes, vegetation and shrubs.
7. Regularly clear tall grasses and leaf litter from around the home
8. Place gravel and wood chips between lawns to keep ticks away from recreational areas
9. Should your pet need treatment, read and follow recommended product labelling carefully using product only on the animal specified. Apply the amount indicated for the size of the animal treated.
10. Worst case scenario, consider keeping pets indoors.
We are gradually moving into a season where the atmosphere is becoming more and more welcoming to fleas and ticks, however, MedicAnimal.com has a range of deals on brand named flea and tick treatments.
These treatments are available in many forms such as:
Sprays
Collars
Spot-ons
Oral Formulations
Injections
Household treatments
Should you decide to self medicate your pet, watch them for side effects or signs of sensitivity. Still concerned? Discuss the best protocol to prevent infestation with your vet.
Click here: For all the Medic Animal fleas and ticks deals