I don't often blog on men's fashions or the trends gracing that mysterious world in which I am a stranger, but it seems that actually the lines between the two worlds are blurring and may soon be obsolete.
In the realm of high fashion and formal wear there are still two very distinct gender camps, but in the casual world a man or woman can literally wear whatever they find on the shelves – regardless of which department it was in – and pull it off.  The helpful thing about buying clothes online is that they are often modelled and you can see how the item will hopefully look on you.
Boyfriend jeans and man jumpers, for women, were among the first items of clothing to belong distinctly to both parties and they paved the way for some women's items to do the same.  It is no longer a sign of being overly feminine to wear pink; in fact it is a sign of being confident in one's masculinity to do so.
Hopefully it will not be perceived as naïve or generalising of me to say that men have become a lot more vain and fashion conscious in recent years so for this reason men want to show off their bodies under their clothing just as much as women do.
This polo neck knitted jumper is really just an illusion of covering up from neck to belt.  It gives every necessary suggestion of the figure of the man underneath while leaving just enough to the imagination that it isn't considered to be an unnecessary display of muscular confidence: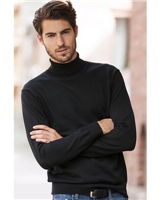 http://www.ellos.co.uk/products/mens-fine-knit-cotton-polo-neck-jumper/704112/324394301.aspx
This sweater too seems to be all about showing off the figure.  On a woman it would be all about hinting at the cleavage so on a man it's what? Pecks? Sternum? I'm not sure V neck jumpers are my thing and I definitely don't think a jumper like this would work without a top underneath but with the top, as this model shows, it's a strong look which can be effectively pulled off without looking like you're missing a pair of breasts to really sell the look: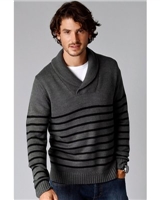 http://www.ellos.co.uk/products/mens-shawl-collar-stripe-sweater/704112/324385862.aspx
Now shirts definitely belonged to men first.  Which is fine, by the way.  I'm personally a huge fan of checked shirts on men and women so in terms of androgyny this is an item of clothing that can do no wrong.  What's great about the newest checked shirts is that they are not afraid to make bold colour and pattern choices.  This men's shirt, for example, though not especially bold in colour or pattern, does a stellar job of highlighting this model's eyes and complimenting his skin tone in an entirely flattering way.  The teal detailing is seen a lot more on women's clothes but it doesn't look out of place here at all.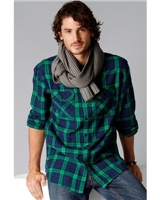 http://www.ellos.co.uk/categories/new-in/825/2.aspx
So, don't feel constrained by gender in your clothing choices.  Instead, embrace the fact that it will give you a much wider wardrobe.