Letter writing is a novelty.  It takes more time and stamps cost money and the absence of a delete button means that writing a letter takes a certain amount of planning.  Once those words are committed to paper you are committed to those words, especially if you've taken the somewhat bold move of writing straight to you letter writing paper without doing a draft copy first.
However, surely the permanence of a letter is one of the best things about writing one.  It's a lasting sentiment.  Finding a box of love letters from an old flame can ignite some powerful emotions which finding an email conversation just can't inspire.  Letter writing is becoming a lost art or something only associated with an older generation and this is a real shame because I believe there is something inherently artistic about it.  The thought and effort that goes into writing a letter will be appreciated by the receiver for sure.  It's a joy to receive something in the post which isn't a bill or junk mail and there's no reason at all that receiving personalised post should be limited to festivities or seasonal holidays, like Christmas.
If you don't feel like writing an essay but would still like to express a personal sentiment through the medium of the postal service then perhaps correspondence cards are for you.  They are limited to around 3 lines of text and can come in a range of styles.  You could get them personalised to your initials and address: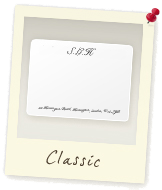 These seem to evoke the essence of a telegram and the associated nostalgia make them quite charming.  By personalising you also don't have to sign it or include a return address.
You could also go for a correspondence card with a simple picture at the top:
The options really are limitless.
If you have something more to say and really want to get your stamp's worth then go for some standard writing paper – available in a variety of styles and sizes.  You can go for A4, A5 or Post Quarto (which is somewhere between the two) and again you can get them personalised to your own initials and address, or illustrated with a design of your choice from the wide range available or one you upload yourself.  You might even have the added bonus of getting address labels for added style and convenience.
There's no real reason that letter writing should be something restricted to older generations and just think how appreciated it would be for a grandparent to actually get a hand written letter back from the grandchild they had written to.  For this reason, you can get some really beautiful children's sets in which the paper is lined for convenience and you can have the paper illustrated and personalised so that even if the handwriting isn't perfectly legible the recipient will be able to identify the sender.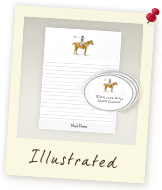 So let's try not to let letter writing be a lost art.  There are so many options and so many ways for you to make it your own.  If you enjoy receiving personalised post then you have to be able to send some as well!  www.honeytreepublishing.com currently have a fantastic offer for 30% off premium writing paper on orders of £25 or more.
It's the perfect time to pick up that pen.