If you are looking to complete your outfit with the ultimately practical and fashionable item you can not fit more happily into both of these categories than the wristwatch does.
With almost limitless designs and styles to suit men and women you can surely find the perfect watch.  It is common for people to have just the one watch.  If this is a chameleon style watch that can happily be seen to suit every outfit regardless of the time of day then you are home and dry.  If not, there is absolutely nothing wrong with having at least a day watch and an evening watch – at least.
This simple and sophisticated men's watch is on the cheaper end of watches.  However, it doesn't give them impression of being cheap.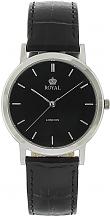 The black leather strap with the matching black face, alongside the colour scheme of black and silver give them impression of sophistication and class.  This watch is effortless in its simplicity and would look great on the wrist of the average working professional that just wants an unassuming time piece that will keep them on track and in style.
On the complete other end of the scale for men, this Seiko kinetic watch looks full of gadgets and absolutely connected with the modern age, as well as having the sophistication and sleek design of a classic.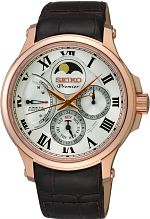 It comes in three different styles – the third of which gives it a look which is as modern as the face – and can therefore be matched to your individual style.  It is not the average watch.  It is a gentleman's watch and that is not just because it uses roman numerals instead of numbers.  It oozes expense and has the added bonus of telling you the date as well.
For women, the choices are just as broad, if not broader.  This watch is technically described as being unisex but the bold colour makes the watch more of a statement accessory than the darker colours which are usually suited to male watches.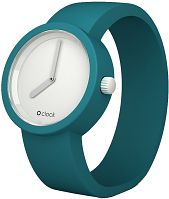 This is the ultimately clean accessory.  Smooth clean edges without even a join to stick out where the face meets the strap.  In fact, it is such a clean watch that it doesn't even have numbers.  It comes in such a wide range of colours, too, that you could buy the whole range and have one for every single look in your wardrobe.
For those ladies looking for a watch at the other end of the spectrum, this beautiful Michel Herbelin is an extremely classy piece for any lady – though it will set you back a few hundred pounds.

With the silver beaded strap and diamonds in the face, it looks more like jewellery than a practical timepiece.  It means that you could go to a dinner or function and not feel like you can't wear a watch because it isn't formal enough.  Again, there are a number of styles – all as classy as each other.
To own your own perfect practical accessory, all you need to do is log onto watchshop.com.  They are currently offering a 6% discount on all purchases.  The time is now.
https://www.newdiscountcodes.com/codes/65530/6-off-any-order-at-watch-shop