When we emerged, sprawling and needy from our mothers' wombs who'd have thought that the first piece of clothing we were unconsciously thrown into would become the latest fashion trend in our teenage years?
So, what is it about the onesie that is making it both ageless and timeless?
With onesies flooding the shelves, racks and webpages of all the top high street fashion retailers, and a lot making it into the best January sales, it seems there is no better time than this to get at least two into the wardrobe.
One of the bigger problems facing us all is the question of whether or not it's okay to wear your onesie outside the house.  Having one for slouching and sleeping in is great, and it's initially where their appeal lay, but the market just keeps on increasing and it is becoming much less socially suicidal to be wearing one outside.  On the train the other day, I saw a whole friendship group of girls on their way back from a shopping trip all wearing a onesie and they didn't look ridiculous at all.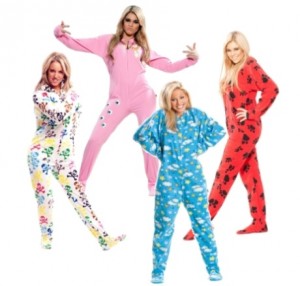 These girls are not them – but they don't look half bad right?
Even if you don't want to wear your onesie all day every day, the practicalities of having your entire outfit in one unit are obvious.  You have none of the embarrassment of tugging down a skirt that seems intent on riding up, you won't have to keep tucking in your plaid shirt and re-arranging the zip of your hoodie so that it shows off the top beneath.  Basically, a onesie is the whole outifit ready-made.  It appears that fashion is finally saying that it's okay to be lazy and still look great.
Perhaps it's the fact that the onesie was originally a child's piece of clothing and that it still harks back to a time of carefree innocence but the onesie seems to have a creative license which other items of clothing can't get away with.  It seems that no pattern or colour is off limits so whatever your mood or specific taste I feel certain that there is a onesie out there for you – unless your specific taste is anti-onesie.  The relative versatility in terms of material and pattern etc. mean that you can even personalise your onesie to your favourite animal.  My cousin recently got a onesie unique to her favourite football team.  Just like this team seem to have done!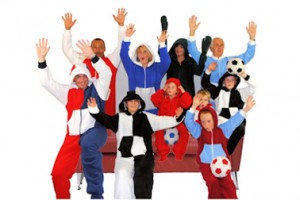 Your online wardrobe, Fashion Union, seem to be making it easier than ever for you to begin your onesie collection with 15% off your order as a new customer, free delivery and even free returns should your onesie, or whatever piece of clothing you desire, not be quite right.  They sell just the type of onesie that will start you off, simple and comfortable:
It's like a hoodie – but bigger.
So jump on the onesie bandwagon.  It's a pretty great place to be.
Buy From