It seems like these three labels are somewhat similar in definition and what really classifies them as being different is the intention of the person or company doing the labelling.  Vintage is really hot right now but a couple of years ago retro was the thing to be and ultimately it's all stuff from the past so why can't we just call the clothes old?
This is the way I see it.  Old, when used most of the time, seems to refer to clothing that's past it.  A really old pair of pajama bottoms which are more transparent than cosy are deserving of their label.  Old stuff should be thrown away – it has no place in the wardrobe.  Vintage refers to stuff that's either made a come-back or is only now being recognised for the fashion potential it had in its day.  Retro refers to clothing which is new but made to impersonate the clothes of yester year.  But even these definitions are problematic; vintage can also mean clothes that wouldn't look out of place on your average OAP but are now considered trendy on the younger generations.  Retro can also seem specific to the mini-skirts and loud colours of the 80s.
Wikipedia, that completely indisputable fountain of knowledge which is never wrong, doesn't seem to acknowledge vintage as a style thing while retro is trends etc that have a 'vintage' of 10 to 20 years.  So maybe it's safer to call vintage old and retro old and cool and abandon 'old' as a term in its own right completely.
Well with all that defining out of the way and absolutely no confusion to be found anywhere…ish, it seems prudent for me to tell you what my favourite part of the fashion come back is.
Everything's floral! I don't know if this is part of the retro or the vintage and frankly, I don't care.  With big, bold, black and white patterns or dainty colourful looks it seems that, not only is there a pattern and colour scheme for everybody but there's also one for every season and occasion.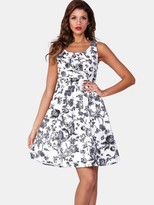 This dress incorporates another two of the features which make me so glad that fashion has a habit of repeating itself.  The empire line, where the second part of the dress starts just below the bust, and the fuller skirt, making the simple things like walking seem so much more angelic.
At 'Very' currently, there's a fantastic deal right now where you can spend £50 or more and not pay a thing until later.  Your retro purchases will be real vintage finds before you even have to worry about paying.
https://www.newdiscountcodes.com/categories/clothing%20and%20accessories
A lot of shops and websites now have whole ranges of vintage and/or retro clothes and some have brought out new collections inspired by vintage and/or retro which give me hope that these old trends are far from becoming things of the past!