Every now and then, a trend will come around that will totally surprise you.  I was fairly surprised on discovering this one and I think perhaps others will be too.  But actually, looking at it a bit more closely as a fantastic evening option for the adult woman it seems that there might actually be a lot of leg work.
I always considered Velour to be the material that was most used for matching tracksuit sets, usually in a colour like pink and often with 'juicy' or similar embroidered on the bottom.  It seems that times have somewhat moved on and now we find ourselves looking at a range of stylish, flattering and conservative evening dresses  – in velour.
This Embellished Velour Wrap Dress is a great asset to your evening wardrobe.  Perfect for a formal dinner party or parents night away from the children, the dark blue is a slimming colour without the seriousness and morbid connotations of a black dress.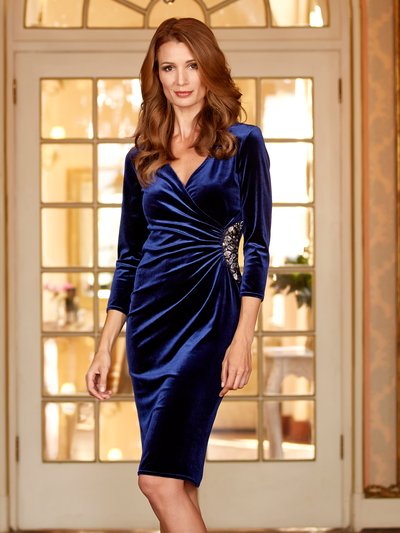 The plunging neck line and lack of strict fitting around the breast and hip areas bring all the attention to the waist.  This too is helped by the embellishment.  The eye is instantly drawn to the centre of your hourglass figure and it allows you to truly show off your assets.  The slightly longer sleeves are also great at hiding those bingo wings and showing off the parts of you that you feel the most confident about displaying.  The thicker material, the longer length and the sleeves mean that you can probably go without a wrap or jacket with this particular dress and therefore you are saving money on the outfit because you don't need to accessorise it with layers.  The embellishment also helps you out in terms of choosing the appropriate jewellery.
This Purple Velour Wrap Dress is a great alternative to the one above.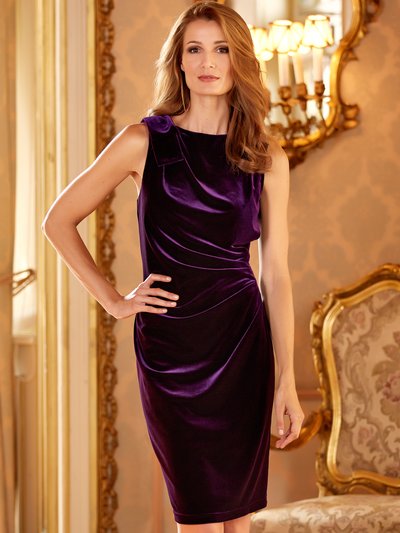 As it does not have sleeves then you might need to invest in a wrap or secondary layer but the basic purple colour is more exciting than the blue and this shade would work with gold or silver accessories even though you might think it's only purple and silver that really work together. It has a little detailing on the shoulder but apart from that it is a really simple flattering dress for you to really make your own.  Even if everyone turned up to the party wearing the same thing, the chances of any of you even looking alike are second to none.
This Mesh Sleeve Velour Dress is a really interesting take on the standard velour;
The sweetheart neckline on this dress is perfect for showing off your cleavage without being provocative and it has some of the same benefits as the blue one due to the length of the sleeves but the translucency of the mesh also allows for breathability in the fabric.
These three dresses are great ideas for how you can feel great about how you look, warmer at your winter parties and stylish and beautiful too.
With this great offer you can get free postage on purchases over £40 at M&Co.