On January 13th we celebrated one of the biggest fashion nights in the commercial calendar – and some famous people got gold balls on columns.  As ever, the keenest eyes and a camera lens were out on the red carpet snapping picture after picture of glamorous dresses for us to furiously dissect.  From this big night, we can learn many things about where formal fashions are headed and more importantly, how we can learn how to follow them.
From the night as a whole we would initially seem to learn that there are no rules.  Body Con and figure hugging dresses were definitely making an appearance, but the Grecian flowing styles were also present.  The trend would probably be a figure hugging bodice and a full skirt.  Floor length dresses were far more present than shorter styles, but with high fashion this tends to be the trend anyway.  Marion Cottillard stood out from the crowd in a mid calf asymmetric hemmed dress but the loose style and sophisticated heels made her just as serene as the women in full length gowns:
Her colour choice might seem a little controversial for a red carpet, red being the operative word, but Jennifer Lawrence and Claire Danes proved that you can match the floor almost completely and still look stunning: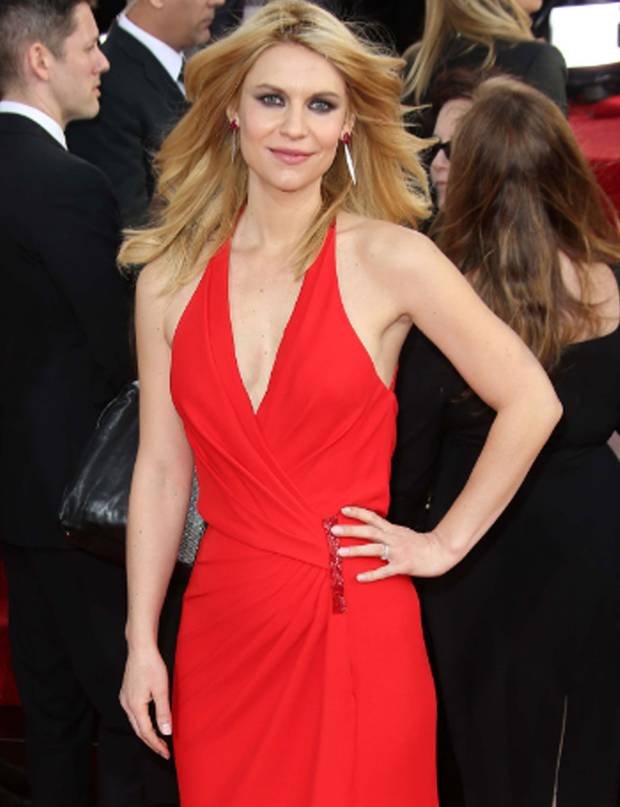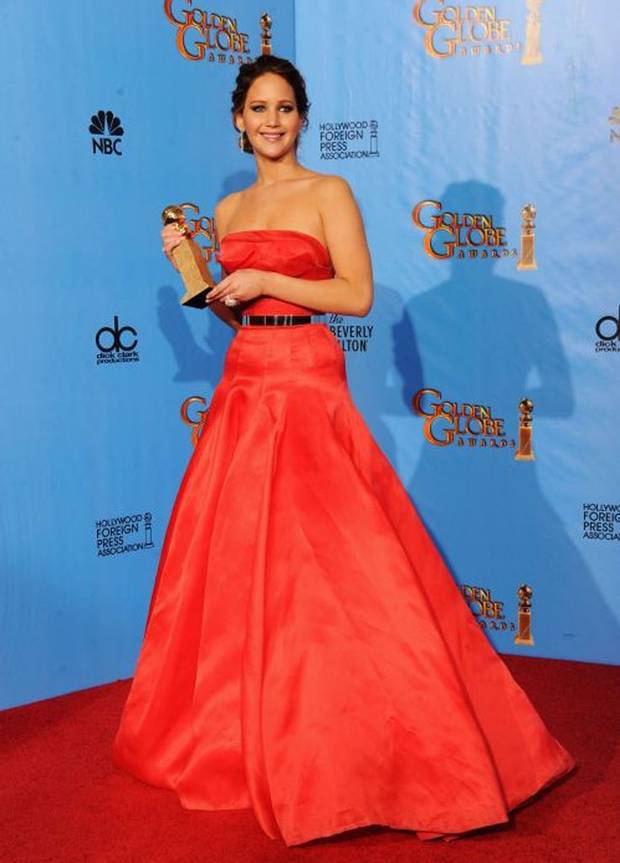 On the whole it was floor length gowns, perhaps with a thigh slit to give sex appeal, that won over the carpet and the colours seemed to remain on the lighter end of the spectrum.  It seems that nudes, pastels and monochrome are in.
Adele stuck to her signature black and looked stunning on her first public outing since the birth of her son: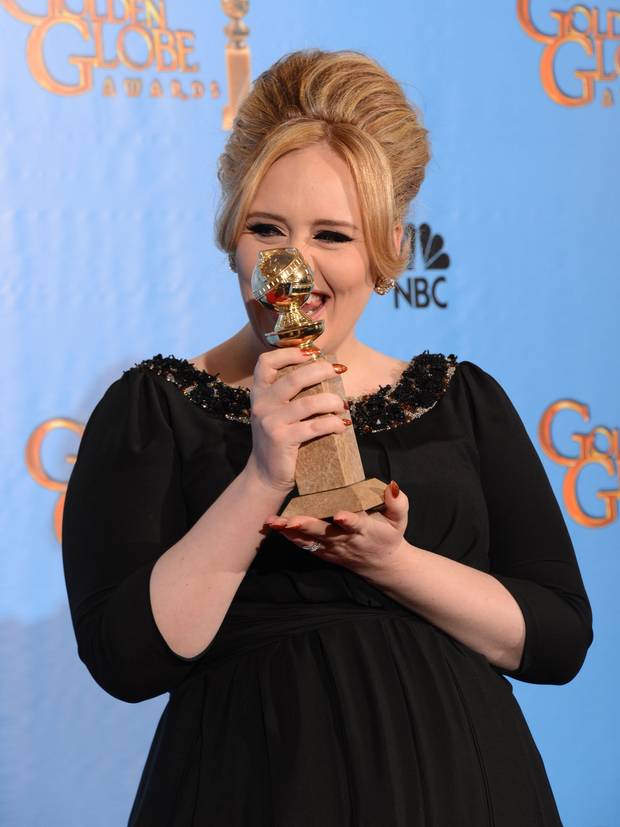 However, she wasn't the only celebrity loving the monochrome look.  Kate Winslet, Julianne Moore and Tina Fey showed that the simple black and white look is completely back.  Taken too far though, the monochrome can look like an optical illusion which photographs badly and, for the non celebrities among us, means that our friends will struggle to look directly at us.  Jessica's Alba's after party dress is one such example…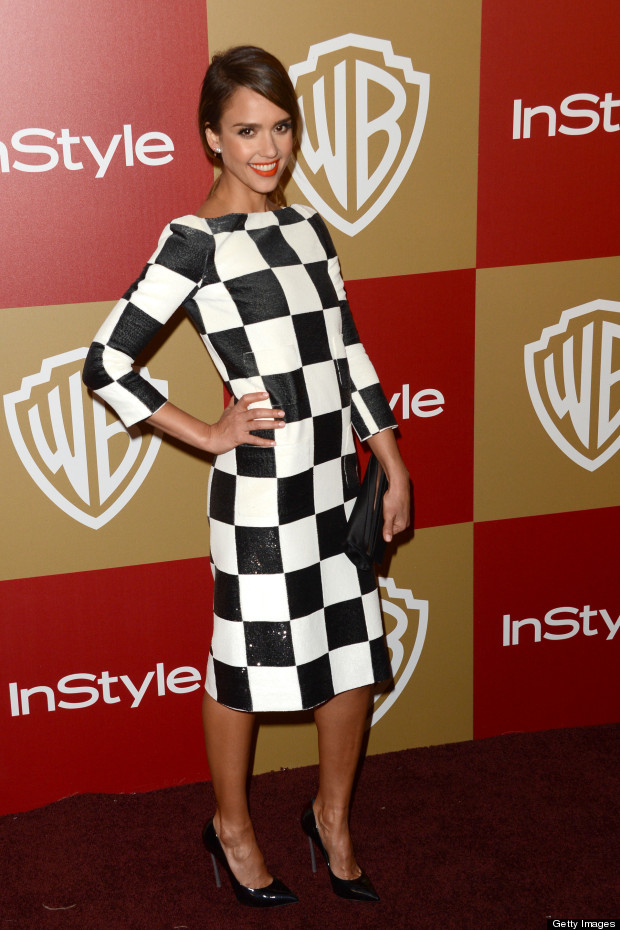 Boohoo.com have managed to overcome this potential disaster area with their panel monochrome dress. The flattering style shows of curves and makes for perfect going out wear, while the monochrome pattern on the centre panel makes the dress, and therefore the person, eye catching without being nauseating:
http://www.boohoo.com/evening-dresses/katie-printed-panel-monochrome-bandeau-skater-dress/invt/azz54227
This monochrome printed dress from boohoo.com also shows how the optical illusion look can be overcome whilst still remaining in fashionable monochrome. A tasteful leafy pattern in this flattering midi bodycon dress:
http://www.boohoo.com/evening-dresses/katie-cap-sleeve-monochrome-printed-midi-dress/invt/azz55427
A much safer look is the nude dress.  You may think I'm playing it a little fast and loose with the word 'safe' when in all honesty you're wearing a dress that resembles your skin tone.  At a certain distance and a body con style you may well look naked, but actually the nude dress is a soft, sleek option that can emphasise curves whilst smoothing over any imperfections.
Amy Adams, Megan Fox, Kerry Washington, Amanda Seyfried and Jennifer Lopez looked stunning in their glamorous nude gowns: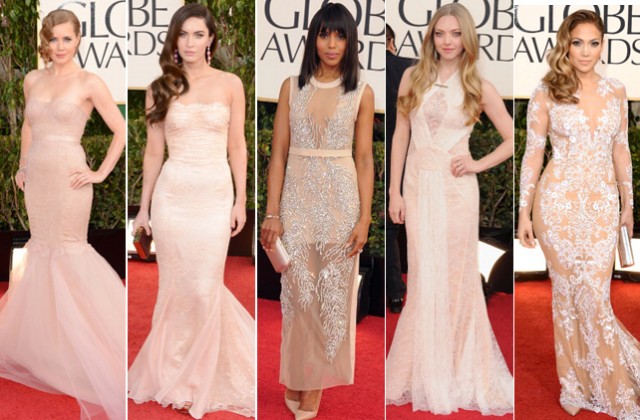 They weren't the only ones choosing this look with a number of nude dresses making their way onto the stage to collect awards, though it was probably not actually the dress winning anything, it's clearly a winning style.
Boohoo.com are on board with the glamour of the nude evening dress by offering their own takes for you to buy.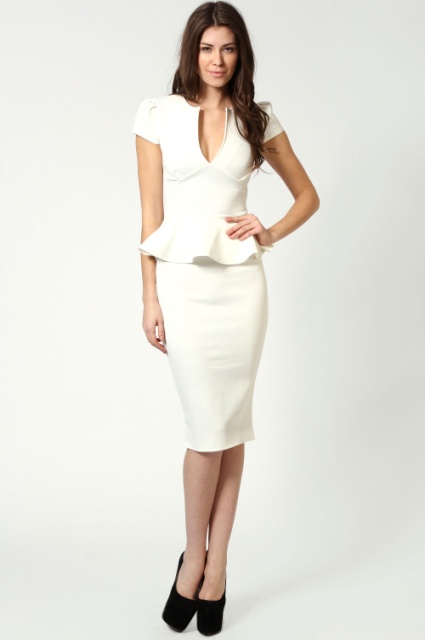 http://www.boohoo.com/restofworld/clothing/dresses/icat/dresses/evening-dresses/emily-slit-neck-cap-sleeve-peplum-midi-dress/invt/azz62117
Anne Hathaway was a big winner and her dress didn't look too different from this one.
This dress combines the sexy sophistication of Marion Cottilard's chiffon, asymmetric hem with the sleek beauty of the nude colours to create my personal favourite dress from boohoo.com:
http://www.boohoo.com/evening-dresses/debbie-chiffon-contrast-waistband-mixi-dress/invt/azz56224
This will definitely be making a mark on my summer going out wardrobe. How about yours?