Male fashion is always popular, especially when designer clothing brands are so readily available. Shopping on the high street for designer clothing can be time consuming, but it does not have to be with online shops like Ben Sherman, Swerve and Stuarts London. Each of these websites is unique in its styles of fashion for men, plus if you love designer brands then you will love the affordable prices. Check out each of these websites to find an exclusive deal online.
Shop Original Ben Sherman Clothing and Accessories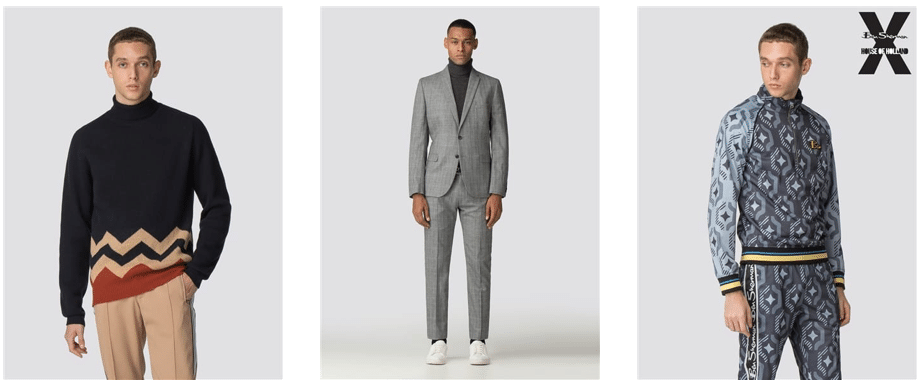 The Ben Sherman website is easy to navigate, plus you can browse its categories or new arrivals to find exactly what you need. When you spend over £20 you will get free UK shipping, plus all students can enjoy a fifteen percent discount by registering with Student Beans. There is an exclusive promo code AUTUMN10 entitling you to ten percent off all knitwear and coats for a limited time, plus you can always visit the clearance sale to save on shirts, suits, trousers, shoes, accessories, and much more. What makes Ben Sherman stand out amongst similar online clothing retailers is its informative style tips blog posts. For example, you can discover what to wear to a wedding, or how to wear a winter coat. There is a helpful size guide to help you choose the ideal size, plus Ben Sherman offer free UK returns too.
Save Over 50% off RRP on Designer Brands Like Hugo Boss at Swerve

Swerve is a contemporary website selling stylish designer clothing brands for men, including Hugo Boss, Diesel, Ted Baker, Timberland, and Firetrap, to name a few. The website is simple to navigate with a list of best buys on the home page, plus a list of all the designer brands scrolling along beneath the two main home page headliners.
Unlike other clothing websites where you can browse categories like jeans, t-shirts, and accessories, you can find whatever you need by browsing through the 'departments' on the home page. There is a sale on all year round with up to seventy percent off top designer brands, but you will always pay far lower prices than the recommended retail price (RRP) on top designer fashion brands like Hugo Boss.
UK deliveries are free and with no minimum order value, plus there is affordable delivery to the European Union for £7.50, while delivery to North America costs £9.99. Returns, however, are not free.
Shop Adidas Originals and Other Hot Fashion Brands For Men at Stuarts London

Stuarts London, established in 1967, is a contemporary fashion website for men and women. With hundreds of featured brands, including Adidas Originals, Nike, and Emporio Armani, to name a few, you can browse through thousands of items, including clothing, footwear, and accessories.
Stuarts London is unique in the products its sells, including male grooming products, books, and technology and audio, plus there are also a great selection of gift ideas available for both men and women. Similar to the Ben Sherman website, Stuarts London also has a featured blog focusing on fashion items and styles.
There are considerably more designer brands sold at Stuarts London than Swerve, but you must pay the standard RRP prices on non-sale items at Stuarts London, and there is a big difference in price on designer clothing compared to Swerve. However, there is an outlet offering hot fashion items at up to fifty percent off its recommended retail price. Browse the footwear, denim, or shirts range for great value designer fashion.
Standard delivery to the UK is free on orders over £75, plus there are free delivery options available to other countries with a minimum order value, which varies, however, returns are not free.