I don't know who invented the long sleeved, button to the top – but no one does the top bottom – men's shirt.  But whoever they were, I have this to say about them, they were a genius.  My theory is that this semi-formal shirt evolved from men's tops throughout the ages.  It is in this age, however, that it is in its prime.
I realise that smart causal men's shirts is a pretty broad subject to blog about but actually, as standard items of clothing, how often does anyone really sit back and think 'aren't shirts great?'.  There's something quite irresistible about a man in the right shirt and you have to admit that for a man in the right jeans, comfortable, and a clean open necked shirt, also comfortable, it's a fairly sure pulling outfit.
A plain shirt is the first option for those beginning to experiment with shirt wearing.  It's casual in an unassuming way and flattering in an attractive way but without drawing too much attention to the wearer.  Probably a good outfit choice for a wing man.  Though personally I'd be much more likely to go for the plain shirt guy because he's not trying too hard.
This plain blue number is a great starting point: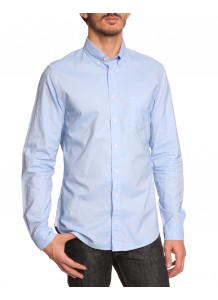 http://www.menlook.co.uk/men-shirt/45736-plain-pinpoint-blue-shirt-hackett.html
It's probably a staple item of every male wardrobe.  It's versatility making it a best seller.
For those starting to feel slightly more confident; another plain shirt but in apple green: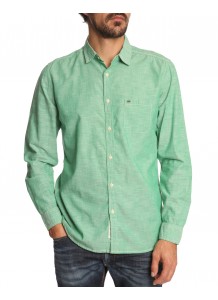 http://www.menlook.co.uk/men-shirt/47191-sharpy-apple-green-marl-shirt-diesel.html
For the slightly bolder colour choices, you need to start thinking more carefully.  The great thing about greens and blues is that it can 'bring out your eyes' but if you don't have green or blue eyes you need to still make sure that a shirt works for you.  Never be afraid of sending stuff back or really putting time into choosing your purchases.  This shade of green is one of those male colours, like teal on women, which probably works for everybody.  But as the spectrum of colour grows, so must your consideration.
At completely the other end of that spectrum is something like this;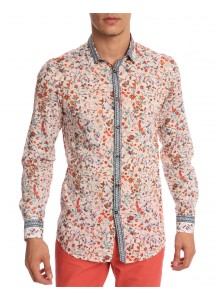 http://www.menlook.co.uk/men-shirt/47565-white-shirt-with-flower-print-just-cavalli.html
Now this is a bold choice and certainly not the correct one for a man who wants to spend the night as part of the wallpaper.  I would advise someone wearing this shirt to partner it with blue jeans and bring out the blue in the pattern adding a little darkness and gravity to the look.  Worn correctly, a shirt like this could be a magnet for all the right people.  It could be memorable to the point of iconic – but this isn't always a good thing.
Sitting comfortably in the middle somewhere, though definitely closer to the neutral end of the spectrum, are shirts like this:
http://www.menlook.co.uk/men-shirt/45361-sammie-white-shirt-selected.html
It's patterned without being obvious and plain without being dull.  Shirts like this bring out the best in this modern age of shirts.  They straddle the formal/suit shirt and the Hawaiian brilliantly showing that this really is prime-time for shirts.  Ridiculous though it may sound, this is just scratching the surface of all there is to say on shirts.
I will say this: Check out www.menlook.co.uk for a fantastic range of menswear (shirts) to fulfil even your wildest dreams.  Though, I would probably caution you against going out dressed as a wild dream!